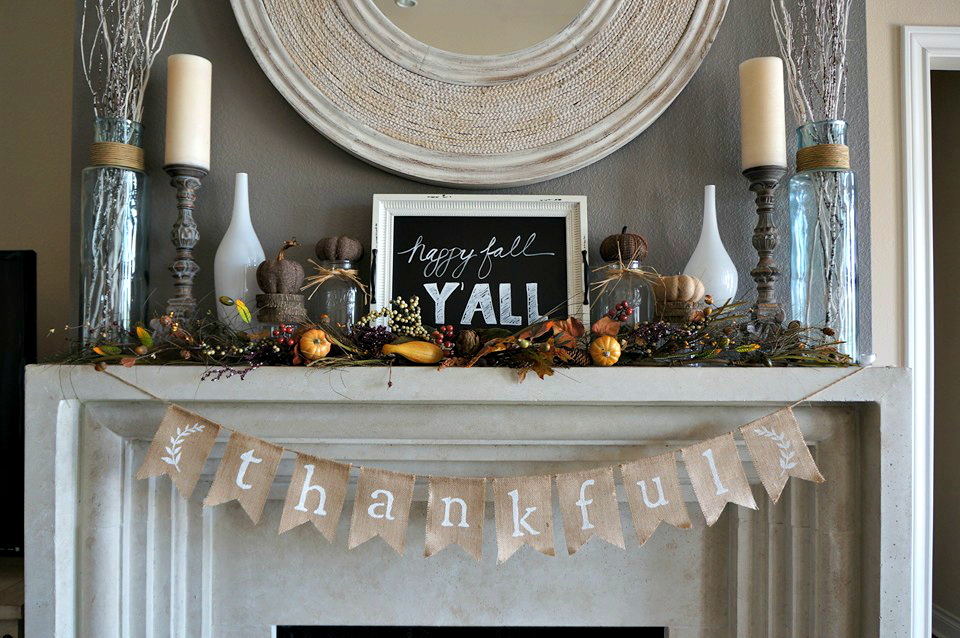 It isn't our family's turn to host Thanksgiving dinner this year, but that didn't stop me from decorating for the season. Yes, seasonal decorating is most certainly a thing!
They have a saying in Texas, "Happy Fall Ya'll!" I love hearing this phrase. It just oozes a sense of warmth, togetherness and southern charm!
Would you believe me if I told you I bought the fabric pumpkins at HEB last year post-Thanksgiving for about 35 cents a piece! If you are not from Texas, HEB is a grocery chain that stands for Here Everything's Better. Everything is seriously better in Texas… well except for the two seasons we experience year round: hot and luke warm.
I purchased the Thankful Banner a few years ago on Etsy. But two weeks ago, I made a very similar banner for a few special friends to show just how thankful I am of them!
The vintage chalkboard tray is from Hobby Lobby for $20.99 with their 40% off coupon. Yes, I need to work on my chalkboard writing…. I am actually quite embarrassed by it. Do you know of any classes in the Houston area?
The garland is not actually a garland at all. It's several floral stems (maybe 10 or so) another post-Thanksgiving treasure from a few years that were mere pennies at Hobby Lobby. I didn't connect them, but just have each stem strategically placed on the mantle.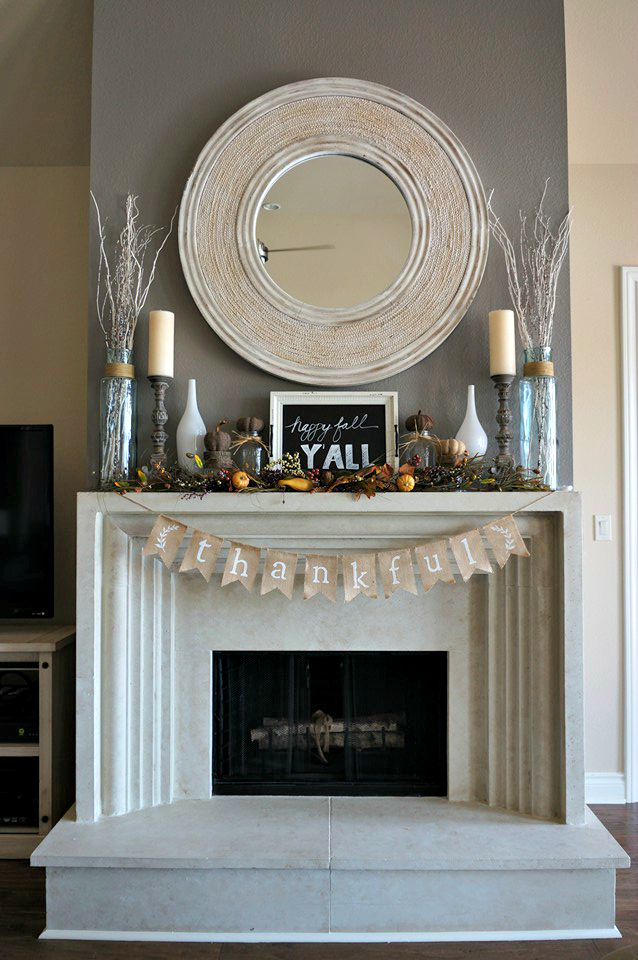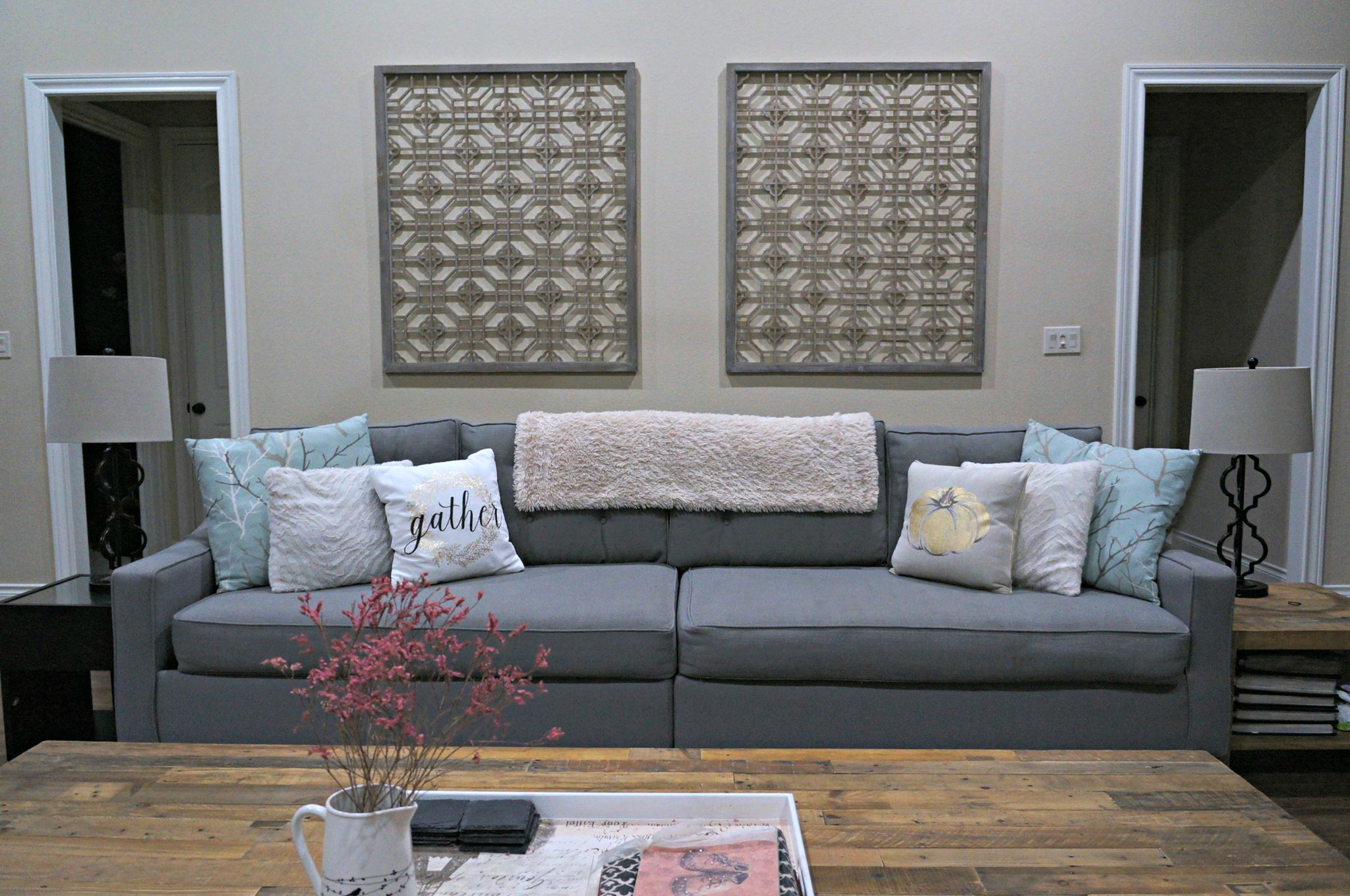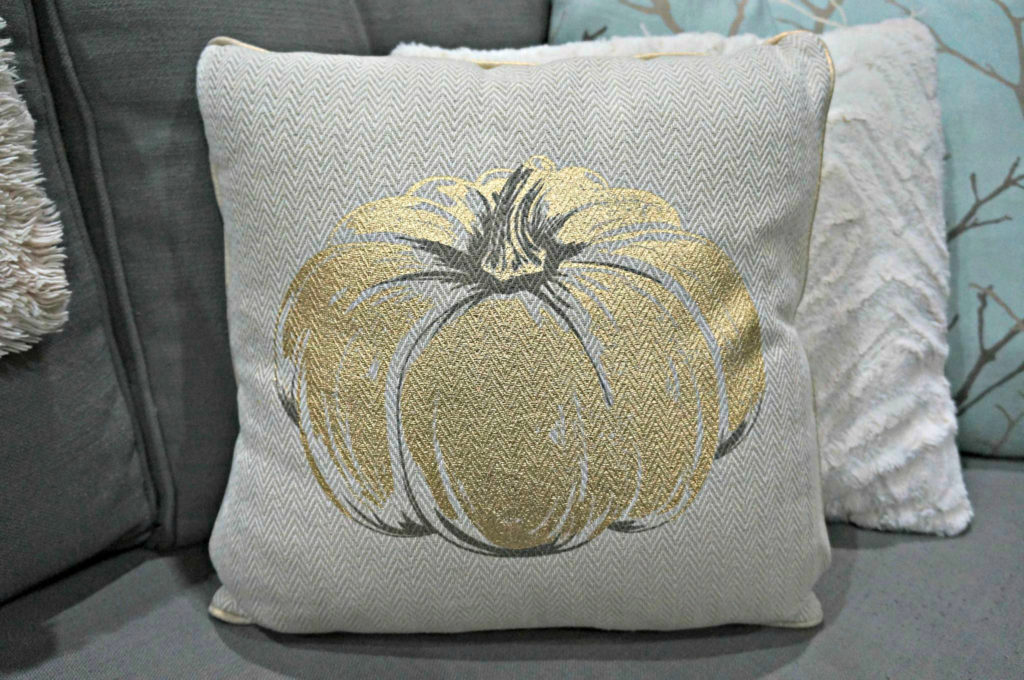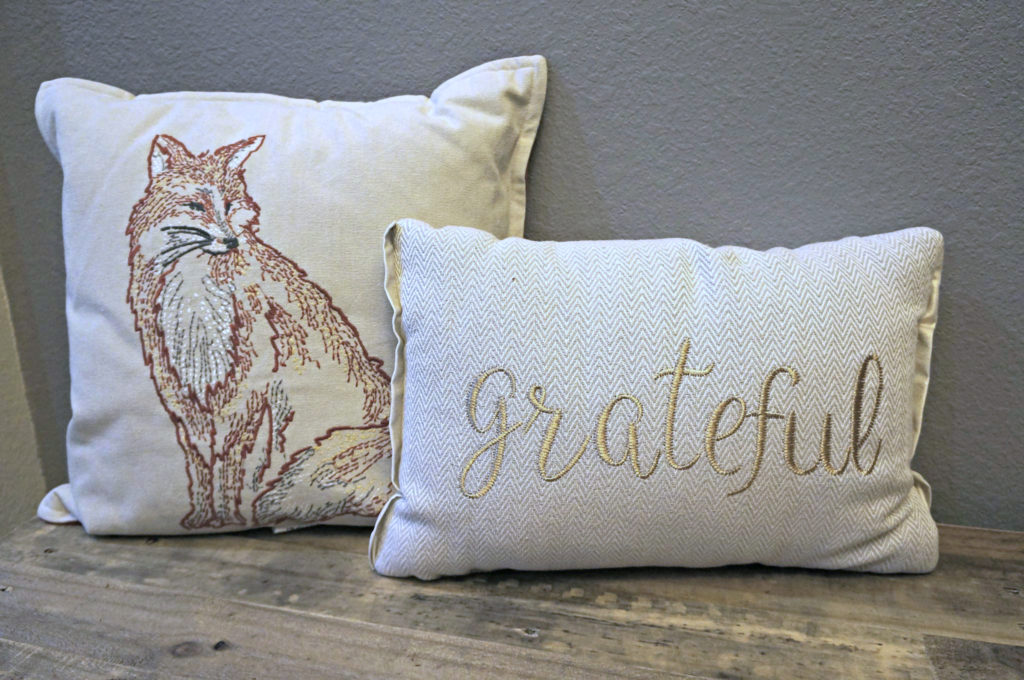 Aren't this pillows gorgeous? They were on sale at Target for $13.99 a few weeks ago! Get them while they last!
Come join us to EAT here! No we actually don't sit or eat here. Maybe 10 times are so, mostly in the last year… the visits to this table are rising! I have a confession to make: I actually like not using this room very often, because it makes me remember each occasion where we sat & celebrated here….and makes the setting even more special.
Never mind the builder's inventory chandelier! I found a few light fixtures and I can not wait to show you! .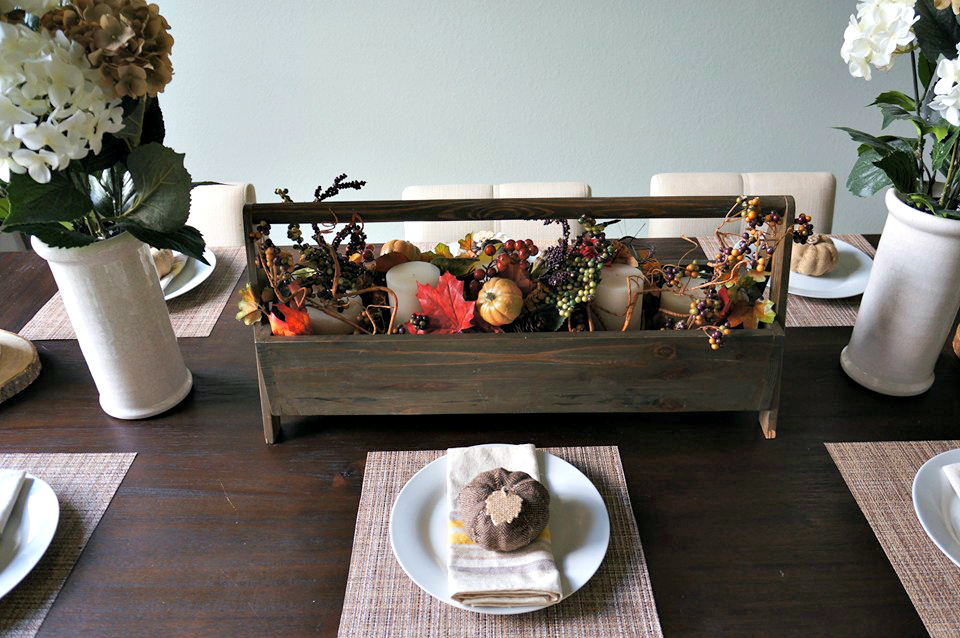 I have always been very hesitant about buying seasonal centerpieces because they are just so darn expensive. For this fall centerpiece, the crate is from the Home Goods clearance aisle and the back of the crate actually says "Life's a Beach"! (I will eventually sand off the wording someday.) The piece is from their summer collection and deeply discounted. See you do not have to buy individualized seasonal items to make it work. The floral arrangement are stems collected throughout the years. Do you see the burlap leaves on the 35 cent HEB pumpkins? The burlap wreaths are from Hobby Lobby, I believe a pack of 10 was a couple of dollars. The vases of flowers are usually white year round, but I added beige hydrangeas to the bouquet to make it look more "Fall."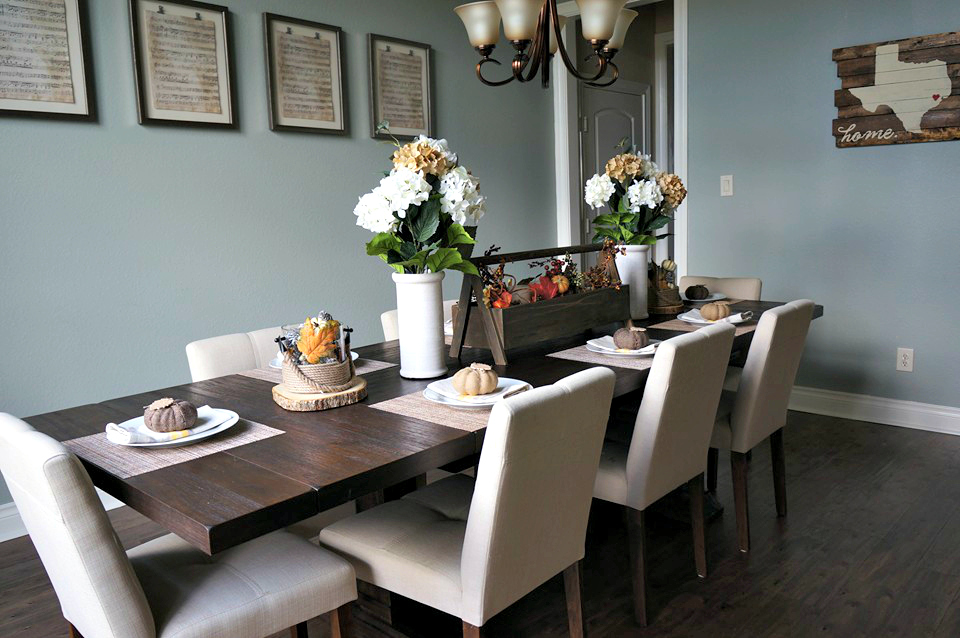 The 4 framed items hanging on the walls are musical notes! It makes it feel so dreamy and whimsical in here.
I purchased the "Texas is Home" sign from the neighborhood resale page for a steal!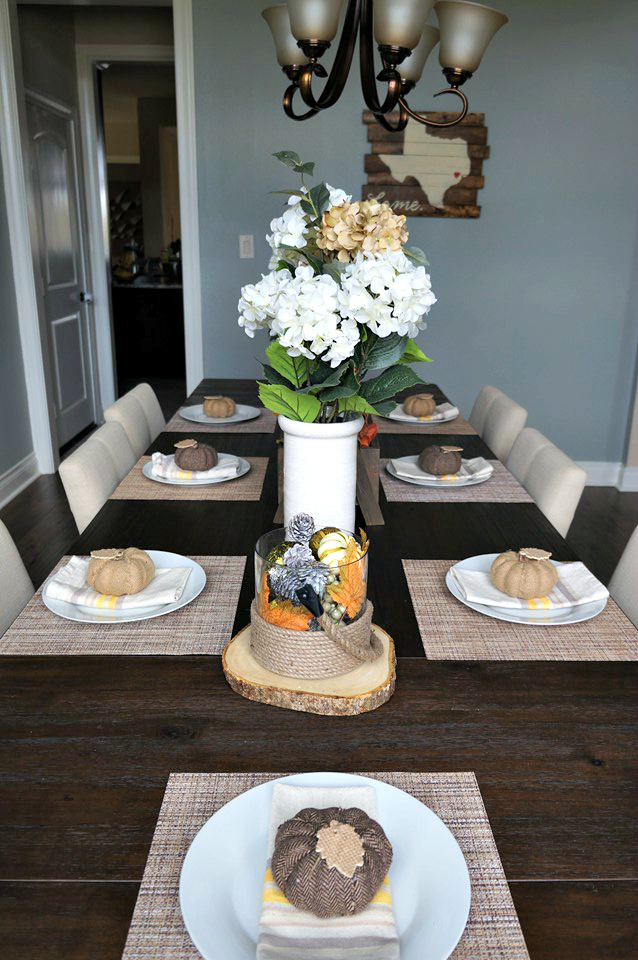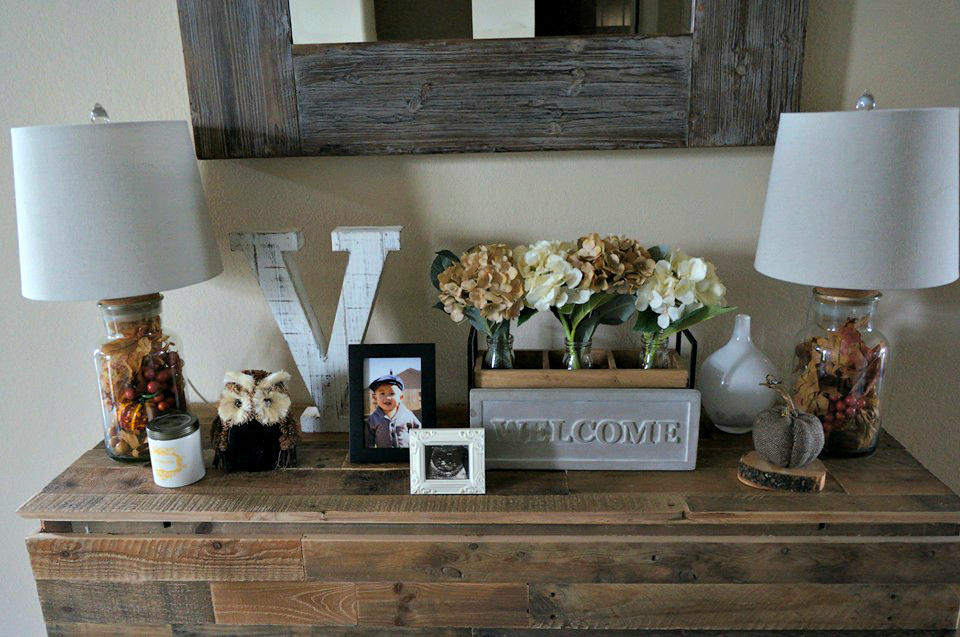 Welcome to our entry hallway table! Isn't it cozy! I think it's time to put up an actual photo of our 2nd child. Do you see her first ever photo… the sonogram from my pregnancy ultrasound. She knows I'm in love with her though. I actually raised up the position of the hallway mirror, but still haven't had a chance to take another photo. Re-doing something just doesn't seem fun! Does anyone else tend to feel this way?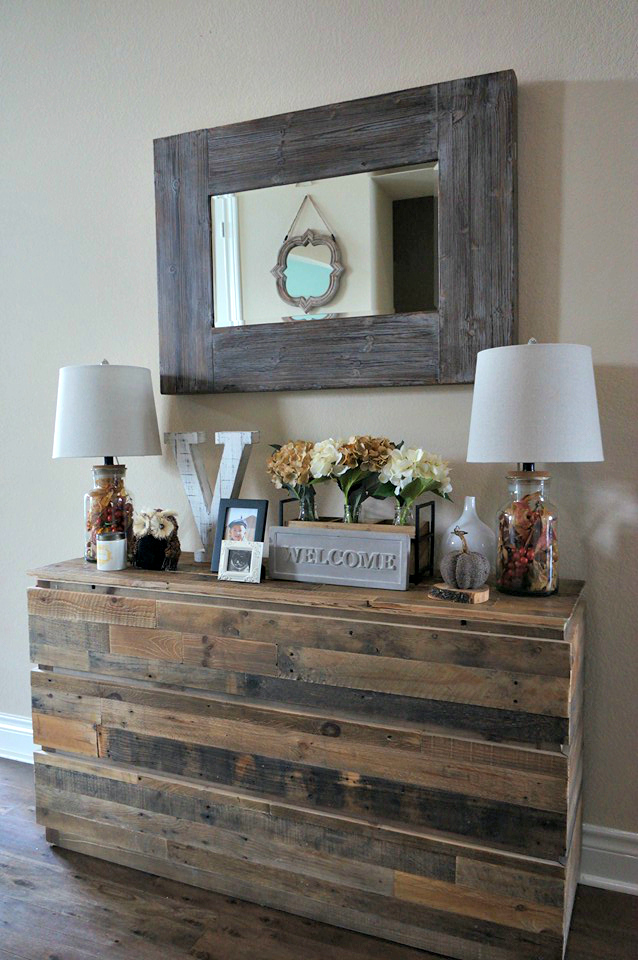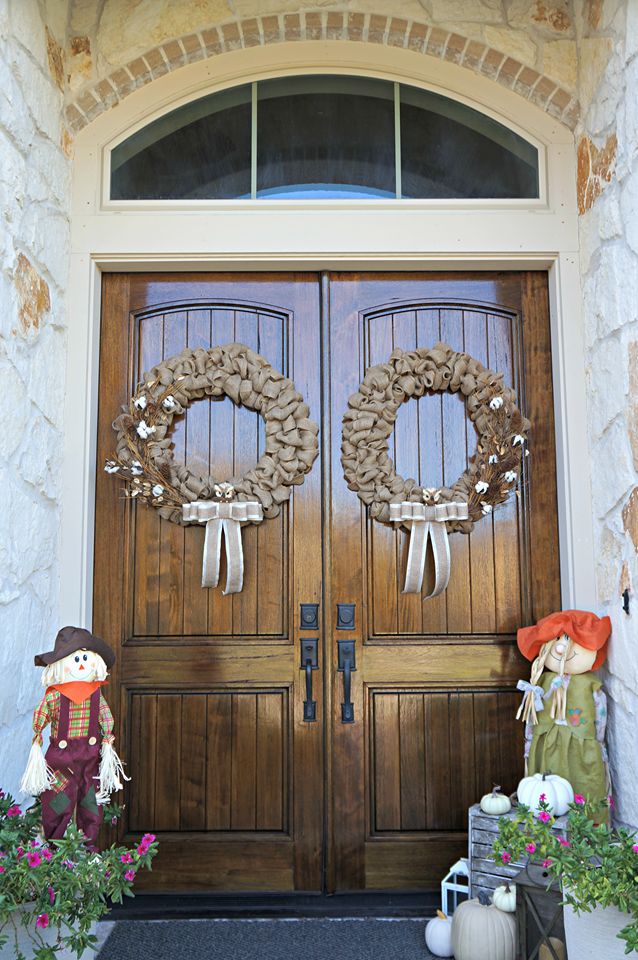 I am so proud of these wreaths I made a few weeks ago where I co-hosted Wreath & WINE Night for the ladies in my neighborhood. In true Sarom fashion, I made one of the wreaths prior to the event so that I could socialize and of course enjoy a few cocktails during the workshop.
I need to water my plants!
Thanks for visiting ya'll!